16 Aug 2022
The NATO Support and Procurement Agency joins the MISO Meetings line-up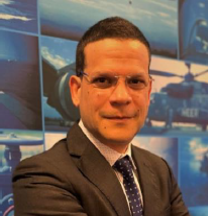 Our latest AI & Innovation event is proud to announce the NSPA's CIO to lead one of our panels.
We are incredibly excited to announce Prof. Dr. Sergio Coronado, Chief Information Officer, NATO Support and Procurement Agency as a speaker at our next MISO event on Thursday 15th September 2022.
Sergio Coronado joins our panel Out with The Old, in with The Already Out-Of-Date: How Can Defence Keep Pace with Emerging Technologies? alongside Nick Colosimo, Global Engineering Fellow, Autonomous and Cyber-Physical Systems Centre, Cranfield University. Together with our other speakers, their panel aims to highlight defence's approach to AI acquisition and enablement and the roadblocks that current stand in the way compared to industry.

Sergio Coronado joins an incredible selection of panellists who are leading the conversations surrounding AI in the defence industry - providing exclusive insight and knowledge into how AI and Machine Learning is affecting their domain. Our line-up of speakers includes representatives from all the Front Line Commands including Defence Digital, alongside academia and industry.

Register now and engage our panellists during this exclusive one-day digital event on Thursday 15th September 2022.
---
Sergio Coronado is an international recognized expert on Information Technology and Communications with more than 35 years of experience. His interests lie in ICT Strategy, Digital Leadership, Cloud Technologies, Cybersecurity, AI and Education. In January 2020, he was appointed the CIO at NSPA.

He began his NATO career in 2003 as a Senior Systems Engineer. Then as a Principal Technical Project Officer, he was responsible for IT Project coordination, IT Architecture and putting in place Service Level Agreements. In 2012, he was appointed Chief IT Division where he was responsible for delivering all ICT services required to run the Agency during which time he was honoured with the NATO Meritorious Service Medal.

His broad previous experience encompass software and delivering ICT services in sectors such as banking, consulting, logistics, retail, sport information systems and education.
He is an Assistant Professor (associé) at the University of Luxembourg where he teaches Advanced Project Management. Sergio received a PhD in Industrial Engineering and M.Sc in Software Engineering from the Polytechnic of Madrid, MA in Clinical Psychology and Education from the University of Leon and BSc in Electrical Engineering from the Simón Bolivar University. In his free time, Sergio contributes to develop the future digital talent in Luxembourg, helping the new generations to become creative in the digital world.
Intro Text
Our latest AI & Innovation event is proud to announce the NSPA's CIO to lead one of our panels.